These lucky dogs have found their forever families.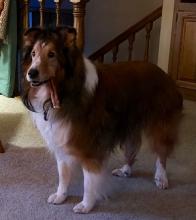 Nigel came to MNSR when his elderly owner could no longer care for him. Sir Nigel, as he is now called, is being treated like royalty and has adjusted to life in his new home quickly. He loves his daily walks with mom and dad and is starting to wag his tail when he gets the attention he so deserves. Adopted January 5, 2018.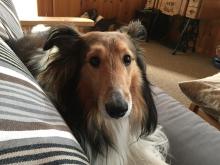 Rescued from a hoarding situation Henri (was Tyler) spent over a year in foster homes learning how to be a dog and to trust people. He went from having to be carried outside to being the first dog out the door and now loves to be outside. He takes his time warming up to people and still has his safe spots but welcomed petting and treats from his new family when they came to meet him. They fell in love with his big brown eyes and his gentle soul. In addition to a mom and dad with lots of experience with shy Shelties, he has two new Sheltie brothers, Sammi and Willi, who will help him feel comfortable in his new home.  Welcome home, little buddy! Adopted December 30, 2017.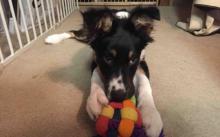 Rocket (fka James) partied with his new family on New Year's Eve! They include two little humans, a Great Dane sister, and two feline siblings. Rocket is settling in nicely and is working on his manners every day. His housetraining is going well and he sits and waits at the door before getting the ok to go out the door. Rocket likes to zoom around the yard and he and his canine sister wear each other out. Rocket gathers all his toys at the end of the day for his pre-bedtime siesta. Rocket and his family are already signed up for basic obedience! Adopted 12/29/17.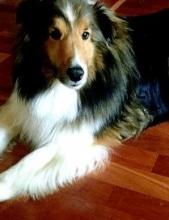 Joey's new mom fell in love with him the moment she met him, and the feeling was mutual! She called Joey's name and he came right to her. As soon as he settles into his new home and the weather warms up, Joey and mom look forward to daily walks together. For now, he loves to play in the snow and catch the snowballs his mom tosses for him in his fenced backyard, and he has already discovered the rabbits and squirrels. Joey's family also includes a canine sister named Stella who is showing him the ropes, as she did for previous MNSR Sheltie Becca. Welcome home, Joey! Adopted 12/26/17. 
Pages