These lucky dogs have found their forever families.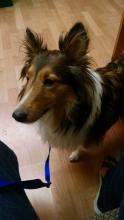 Pretty little Ruby's Christmas wish came true when her adoption was made official on Christmas day and her foster home became her forever home! Ruby joins MNSR alum Mindy and Sheltie siblings Rudy and Abbie, a human brother, and her very own young lady mom who has shown her parents that she is ready for the responsibility of taking care of a Sheltie of her own! Adopted 12/25/17.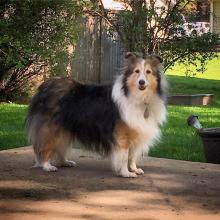 Maggie was rescued from neglect after a breeding facility named Country Pride Kennel (now Pine River Stable) in Pine River, MN was raided by the local sheriff. She was relinquished to MNSR and started her new life as a foster dog. She has learned all about the good life from her two foster sisters, Daisy and MNSR alum Cupcake, and her foster brother Jasper. Maggie's foster mom decided that Maggie is home to stay. Maggie enjoys leashed walks in the woods, playing dog games, and hand-targeting for cheese (which she loves!). Adopted 12/25/17.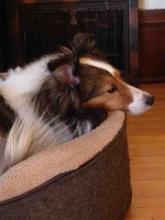 Cassie came back to MNSR when her adopters were no longer in a position to be able to care for her. Fortunately we had a past adopter waiting to welcome another wonderful little Sheltie into his heart and his home. Cassie's new dad is committed to her health and plans to walk her daily and give her healthy treats to help maintain the best weight for her well-being. Cassie has already begun to explore her new home, follows dad to go outside and of course at mealtime, and is doing stretchies and wagging her tail! Adopted 12/7/17.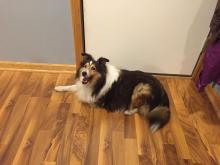 Luna loves being the center of attention and has found the perfect home where she will get all of the attention she deserves.  Luna came into rescue with heartworm disease which was successfully treated so she is now ready for the best years of her life! Adopted 10/25/17.
Pages