These lucky dogs have found their forever families.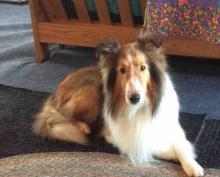 Teddy joined a family that has lots of Sheltie experience. His 17 month old Sheltie brother was just waiting for a buddy to run and play in the big fenced back yard. When Teddy is comfortable, he'll get to go for a walk every morning with his dad, and will have evening playtime with his mom as well as a Collie neighbor. Human brother Chris will also keep him busy playing in the yard. Teddy has found a home where he will get all the love and attention he deserves. Welcome home, Teddy! Adopted 5/8/17.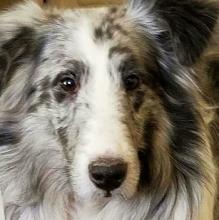 Rescued from a hoarding case, Winston now has a wonderful life as part of the canine management team at Gator's Grilled Cheese Emporium in Ely, with MNSR alum Copper & Dachshund Violet. He proudly follows in the pawsteps of MNSR alum Gator, for whom the restaurant was named and who oversees from the Rainbow Bridge with MNSR alum Ferguson. Winston is thrilled to be so loved and to live in a cheese-loving home. Adopted 4/22/17.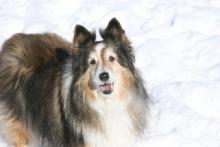 Sweet Prancer came into rescue with his brother, Coni, when their devoted mom passed away - she made sure when she became ill that MNSR would take care of them. Prancer bonded with his foster mom and quickly began to look to her for reassurance. When he also began playing with the resident Sheltie, it became clear that he was happy to make his foster home his forever home. And Prancer and Coni still get together for play dates and sleep-overs! Adopted 4/1/17.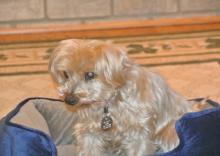 Little Chauncy came into rescue with his best friend, Sheltie Casey. We kept our promise to them to keep them together for life, and they won over their foster mom's heart. Very sadly, Casey passed away from cancer soon after arriving in rescue, but she knew Chauncy was safe and loved and in very good hands. Chauncy follows his Sheltie sisters (Annie and MNSR alum Abbey) around and keeps everyone entertained with his happy, loving, bouncy personality! Adopted 2/15/17.
Pages