MNSR is an all-volunteer, 501(c)(3) tax exempt nonprofit organization. We are run solely through the tireless dedication of our volunteers and the generosity of our donors.
There are several ways to donate to MNSR throughout the year:
Donate to MNSR Online
MN Sheltie Rescue has joined giveMN.org which provides a destination for local non-profit organizations to spread their message and receive safe and secure online donations from their supporters. All year long, you can donate online via the GiveMN link below.
Every November, we participate in Give to the Max Day. This event has become a huge fundraiser for MNSR and your online donations are eligible for matching donations! You'll start to hear about Give to the Max Day in October every year.
Mail Donations to MNSR
If you prefer, you can mail a donation. It's an easy way to donate if you wish to specify your donation as a tribute or memorial for a special person or pet. Donations can be mailed to:
Minnesota Sheltie Rescue
PO Box 395
Circle Pines MN 55014-9998
Payroll Deduction: A Great Way to Support Minnesota Sheltie Rescue
If your employer has a Charitable Giving Campaign, it's likely that you already donate to charities of your choice via payroll deduction through that program. You may not be aware that you may designate contributions to Minnesota Sheltie Rescue, a 501(c)(3), in this way! We have a growing list of supporters who are contributing to Minnesota Sheltie Rescue through payroll deduction. It is a wonderful way for you to provide financial support to the Shelties waiting for their new homes, for which the primary cost is vet care. Employer Campaigns are ongoing. We hope you will consider the Shelties in your giving plan!
If United Way is one of your choices on your employer's list of approved charities, you have the option to write in a designation of "Minnesota Sheltie Rescue." United Way keeps a % for their administrative costs (which is just fine as they do wonderful work) and remits the rest on a quarterly basis to Minnesota Sheltie Rescue. If you do not have United Way, you still may be able to designate within your employer's charitable giving program – contact us at info@mnsheltierescue.org for help or questions.
Your employer's plan should also provide information on how to designate funds to any 501(c)(3). Should you decide to donate via payroll deduction to Minnesota Sheltie Rescue, please let us know so we can look for your donation and acknowledge it (and follow up with United Way if we don't see it).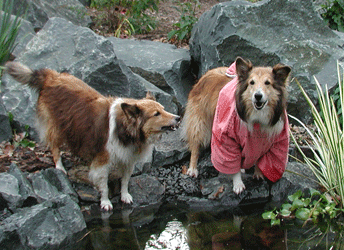 Support the Jazz & McKenna Memorial Fund
The Jazz & McKenna fund was named in memory of two special Shelties loved by Jean Beuning of Top Dog Country Club, who made the initial donation of $1,000 to this fund. This fund is used by MNSR for special veterinary expenses for Shelties in our care. Over the years, this fund has allowed us to pay for costly surgeries such as Sox's torn ACL, we were able to provide Becca with additional surgical care when she was diagnosed with Von Willebrand's disease (a blood clotting disorder), and surgeries for several other Shelties as well. 
Click on the link below to be directed to our specific givemn.org campaign for the Jazz & McKenna Fund.