These lucky dogs have found their forever families.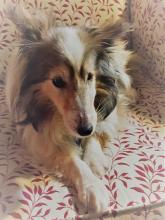 Tess came from a situation where she and several other dogs were found abandoned in filthy cages. Her coat was so dirty and matted she had to be shaved to the skin. She was extremely shy with humans. She was adopted by a caring couple who allow her to come around at her own pace. She has a great fenced yard where she can explore to her heart's content. Tess is an only dog in her new home but she does have a couple of feline siblings. Her coat has now grown back and she is learning that human affection is a good thing. We know she will continue to blossom.   Adopted 9/27/17.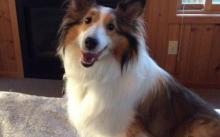 It didn't take Lulu long to find her forever home. She had been at her foster home for only a week when she met her new family. She loves her fenced-in yard and is finding her favorite spots in the house. Mom and dad are giving Lulu lots of treats to help her adjust and learn to feel comfortable in her new home. Adopted 8/27/17.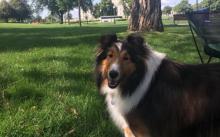 Adele found her forever home with a seasoned Sheltie couple. They lost their Sheltie MNSR alum, Olive, about a year ago.  Both have missed having a Sheltie and hearing the patter of feet on the floor.  Adele is filling that big empty spot. She gets to be an "only" so she gets all of their attention. Adele is on a weight management program in her new home where she will get lots of daily walks to get her to a healthy weight. Welcome home Adele! Adopted 7/20/17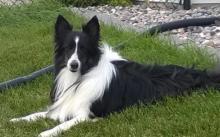 Congrats to this cutie who had an adoptive family waiting for him when he came into rescue! Tuk has a huge fenced yard in which to run & play with his new Sheltie brother Pippin, PLUS two more Sheltie pals right next door! Tuk's family was so pleased that he shared all his favorite toys with his new brother, and Pippin was very welcoming of the new addition. Tuk sends his love to his fosters ❤️ Adopted 7/13/17.
Pages