These lucky dogs have found their forever families.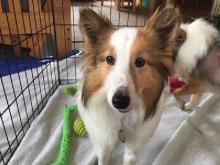 After being rescued from severe neglect, we are thrilled to announce that Sweetpea's foster home is now her forever home! She is loving all the new experiences to which her family has introduced her, and they just adore her. Her new family includes a Miniature Poodle who was missing having a Sheltie friend, and two feline sisters. Happy life ahead for Sweetpea filled with love, lots of attention and excellent care! Adopted 7/10/17.
Lucy has joined a loving family who was so sad after having to say goodbye to MNSR alum Abby just a few weeks ago. Her new mom reports that Lucy made herself at home right away and that it feels like she has always been there. Lucy loves human attention and has been gentle with the two little boys in her new home, but she has been Mom's shadow most of the time so far. Just like her predecessor Abby, roly-poly little Lucy is enjoying carrot treats and is moving well on short walks as she begins her journey to better health and weight. Mom says there's an active, playful girl in there for sure, and she loves rolling over for belly rubs. Adopted 6/23/17.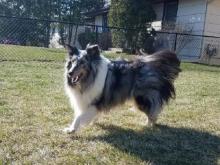 Ali has her forever home with Sheltie brother Taj, feline brother Rocket, and a mom who has lots of experience with training and socialization. Ali started a little game where she comes within a foot of where mom is sitting, play-bows and then bounds away, then comes back and starts it again. Shy Ali likes to spend time in her crate, but comes out often to follow Taj around, or if he barks she has to know what's going on and may join in the barking. Mornings are happy times, with Ali and Taj barking to wake mom up - everyone is excited for breakfast ... typical Shelties! Ali sends love to her foster family for teaching her so much. Adopted 6/9/17.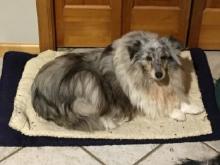 Franny's new mom and dad fell in love with her the moment they met! Her Sheltie sister Lexi is glad to have another Sheltie around to keep her company. After a few days of settling in, Franny was playing with squeaky toys and hanging out with everyone on the deck. She follows her mom and dad around and loves being the center of attention. Adopted 6/1/17.
Pages